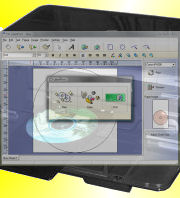 Using CD Labelprint
Many people have been asking about using CD Labelprint to print disk labels. While it's a fairly basic program it can be a little confusing to those just starting out. I have written this tutorial to assist with the more frequently asked questions. I have endeavoured to make it as easy as possible and have used actual screenshots to guide you though the process.
I have written this based on questions that I have answered many times but would love to hear from you if you feel that I've omitted something or would like more clarification. Just select "Contact Kev" from the navigation bar at the top of most pages and leave your comments.
Enough with the preamble - click below to start the tutorial.
Start the Tutorial (Not yet available - under construction)